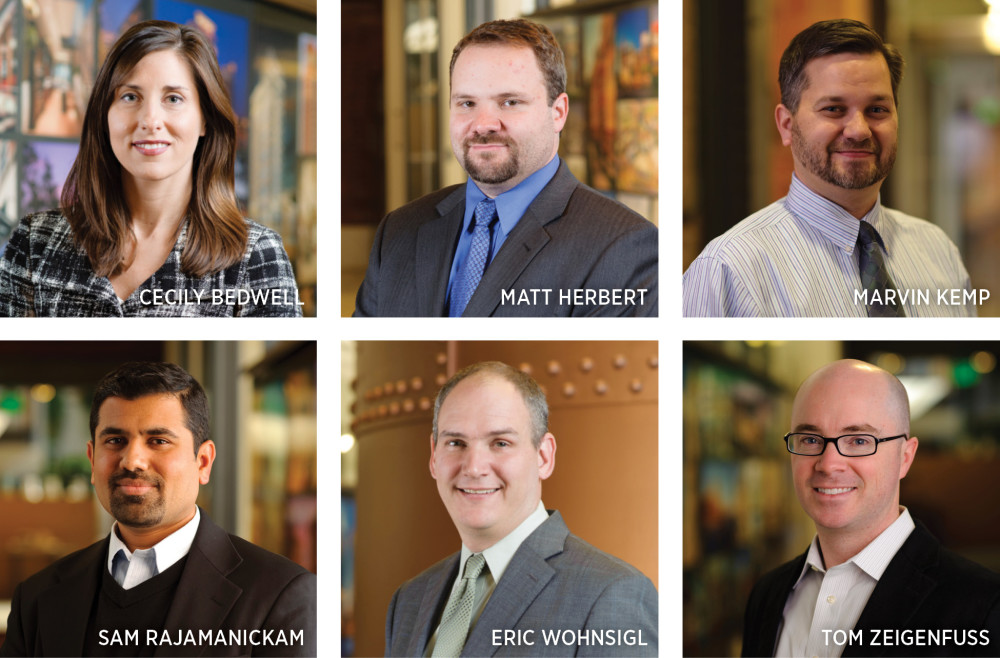 Baltimore, MD (January 20, 2016) – Building on thirty-eight years of growth and design excellence, Baltimore-based Design Collective, an integrated design practice including Architecture, Interiors, Landscape Architecture, Urban Design and Planning, announces a new chapter in its leadership.
As we begin the new year, the Senior Principals are pleased to announce the promotion of six new Principals – Cecily Bedwell, Matt Herbert, Marvin Kemp, Sam Rajamanickam, Eric Wohnsigl, and Tom Zeigenfuss.  Recognized for their commitment to the firm, for their proven creativity and high level of client service, for their technical expertise and leadership skills, this group emerges as the next generation of leaders groomed from within the firm.  We will be featuring additional information on these new Principals on our website and in social media over the next few days and hope that you will join us in congratulating them all.
Cecily Bedwell, AICP, LEED AP BD+C
A Certified Planner and LEED Building Design + Construction Accredited Professional, Cecily has spent the past 18 years at Design Collective focusing on large-scale planning, campus master planning, and urban design and revitalization projects in the firm's Urban Design Studio. She is exceptionally skilled at collaborating with municipalities and institutions within a public process for planning and urban design, developing appropriate and contextual master plans, concept plans, and design guidelines.
Matt Herbert, AIA, NCARB, LEED AP
Matt joined Design Collective in 2001 and since that time has led some of the firm's most notable and successful design and development projects across a wide range of construction typologies. An innovative thinker and problem solver, Matt's expertise spans development and renovation of office, retail, entertainment and mixed-use housing projects; cultural facilities; laboratories; and diverse structures for education ranging from K-12 to university projects.
Marvin Kemp, AIA, CSI, CDT
Marvin has been an innovator in architecture for more than 20 years, focusing on new construction and complex renovations principally for the higher education market, including the design and construction of life sciences, research and student housing facilities. Active nationally with the Construction Specifications Institute (CSI), Marvin is currently serving on the CSI National Board of Directors and is past president of the Baltimore Chapter.
Sam Rajamanickam, AIA, LEED AP
Since he joined Design Collective in 1994, Sam has played a key role in some of the firm's most transformative urban development projects. His leadership experience covers a full range of construction typologies and focuses on national, regional and local large-scale student housing, urban mixed-use and transit-oriented development (TOD) projects. He has delivered presentations on architectural planning and design topics to the Urban Land Institute and serves as a regular jury member for the graduate architecture program at Morgan State University.
Eric Wohnsigl, AIA, LEED AP BD+C
Eric joined Design Collective in 1999, developing an expertise in design, project management and construction administration across a wide range of project types including multi-family mixed-use housing, lifestyle centers, and a variety of higher education facilities from student housing to sports complexes. Eric specializes in the development and renovation of challenging structures requiring complex technical integration of constructability issues and construction detailing with design intent.
Tom Zeigenfuss AIA, LEED AP
Since joining Design Collective in 1999, Tom has applied his extensive expertise in design and high-rise design, programming, and facilities planning to transformative projects ranging from large-scale, mixed-use multi-family dwellings to student housing. His knowledge of evolving construction technologies and project delivery methods makes him a valuable and sought-after partner to DCI clients across diverse markets including residential, mixed use and higher education.