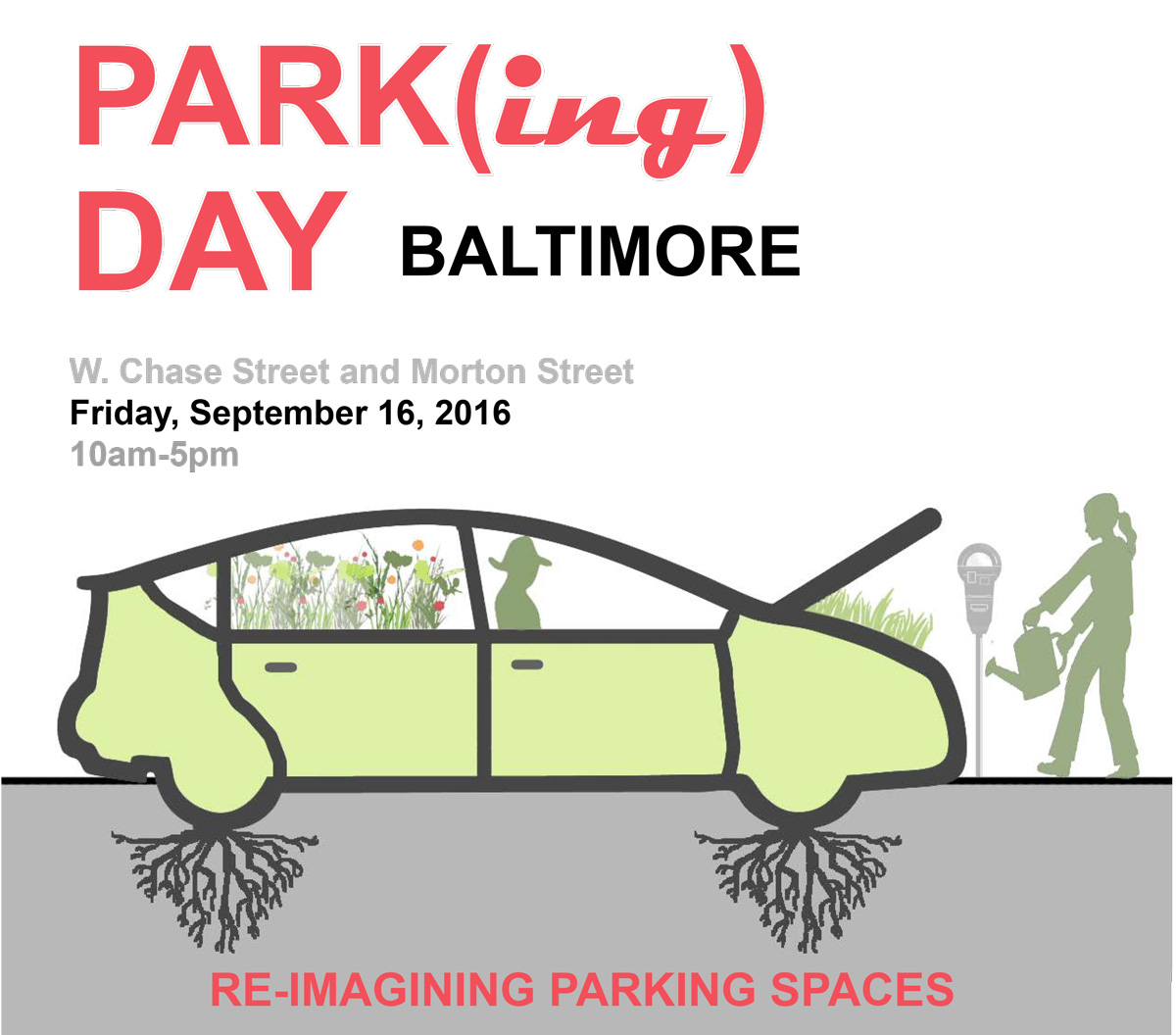 Join us for an Informational Meeting on Monday, August 15 at 5:30 pm in the AIABaltimore Gallery
On Friday, September 16th, in Baltimore and cities around the globe, architects, landscape designers, artists, and citizens will transform metered parking spaces into temporary public parks and other social spaces, as part of an annual event called "PARK(ing) Day."
Initiated in 2005 by Rebar, a San Francisco-based art and design studio, PARK(ing) Day invites people to rethink the way streets are used and promotes discussion around the need for broad- based changes to urban infrastructure.  For the fourth year in Baltimore, a team of design firms and nonprofit organizations are taking the initiative to new heights by co-locating parking spaces along W. Chase and Morton Streets in Mount Vernon, outside the Baltimore Chapter of The American Institute of Architects (AIABaltimore). 
Participation
Spaces limited!
Join us by designing a parklet. The sky (and a 10′ x 20′ parking space) is the limit! We have had some inspiring designs in the past, from a mini-golf course to an outdoor French cafe. Get inspired by checking out the Park(ing) Day website.
Logistics
Set up 9:00 am – 11 am, take down 4:00 – 6:00 pm. Open to the public from 11:00 am – 4:00 pm.
Permits: AIABaltimore is taking care of the arrangements and fees for all permits so you can just focus on the design of your Parklet, and helping us get the word out!
PARKing space allocation: A parking space will be assigned to you by AIABaltimore staff.
Partnership: We encourage you to partner with local organizations! Have materials but don't know what to do? Partner with a design firm or an artist! Park(ing) Day is also a great opportunity to partner with students.
Coordination of materials and donations: Parks & People Foundation will accept donations of plant material.
PR: Park(ing) Day will be publicized to local media before and after the event.
Registration