By Melanie Ray, Assoc. AIA – AIABaltimore Board of Directors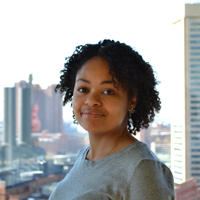 The recent presidential election was an eye-opener for many people. Our nation has spoken, and while many seek to understand the political climate of the country, one must not forget the progress that we have made and still have yet to see.
As architects, we are charged with the task of providing safe and desirable spaces for all people. Where we see those spaces lacking in vibrancy, disillusioned by discriminatory policies, or simply missing and removed from our communities, our role must expand to be advocates of equality in good design. Now is the time to come together in our efforts to improve the built environment, and be cautious not to leave behind our fellow brothers and sisters in the process. We must use our ability to shape and form physical space to blur the lines that divide our nation.
In Baltimore, we have a unique opportunity to be a model for this change, considering the existence of stark lines that continue to divide our city. Our built environment stands to be the recipient of good design for every man, woman and child in Baltimore as long as we recognize the need for architects to be advocates in the community. Every Tuesday morning I look forward to serving as a tutor for Reading Partners, instilling in my student that his hopes and dreams are attainable through the skill of reading and comprehension. In return, I get a glimpse of the world through his eyes, and discover ways that I can improve the community for his benefit. So get out into the city. Discover this community. And let's take change into our own hands.