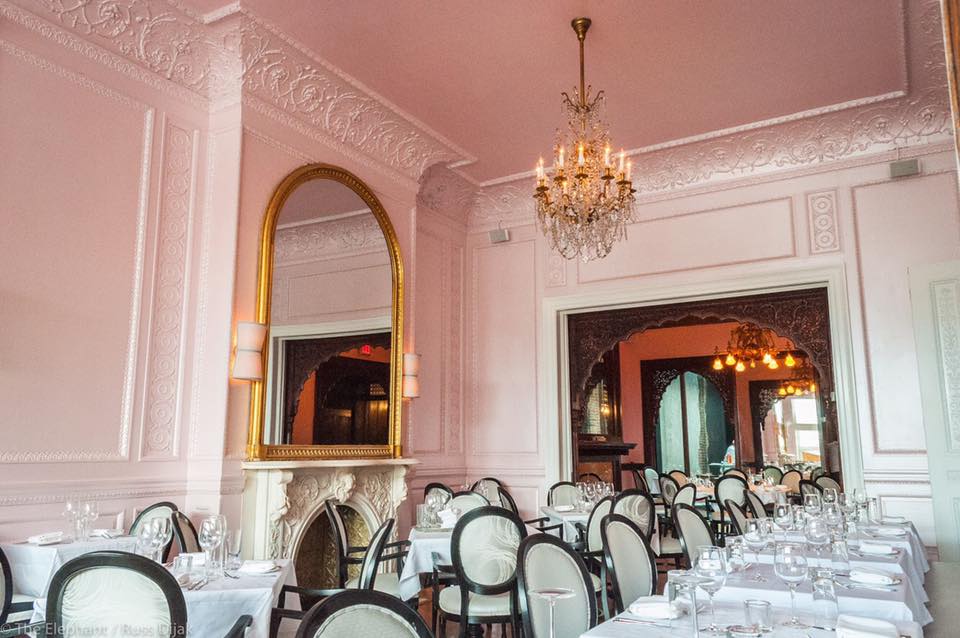 It's difficult to believe you are 167 year's old—you don't look a day over twenty. You have been so kind to have sheltered families—the Howards, the Stewarts and the Knapps—and hosted four commercial businesses—Pothast Furniture, Paley's restaurant, The Brass Elephant restaurant, and today, The Elephant. Families and their friends, retailers and their shoppers, and restaurateurs and their guests have peered out your windows and witnessed in miniature the transforming of a nation and its people.
Before you existed, in the late-1700s and early-1800s, a revolutionary war veteran, John Eager Howard, cultivated his huge estate called Belvedere. Around the 1850's, a portion of this estate went to his son, Benjamin Chew Howard, who constructed your nascent self using classic and federalist proportions. You endured the Civil War as your inhabitants may have viewed military troops marching past your front door. In the 1860's, the Charles Morton Stewart family of Josephine and fourteen children thrived due to a successful coffee business where their square-sailed fleet of ships outran pirates and delivered coffee safely from Rio to Baltimore and back.
By the 1890's, the Knapps became the third family to dwell in your rooms. The Industrial Revolution was at high tide. George, a patent attorney, and Sarah were well traveled with a passion for India, in particular elephants. They spent $100,000 (millions by today's standards) to deck out your interior with the exotic de Forest carved Indian teak and elegantly formed brass (the elephant sconces in the entry hallway), Rinehart marble mantles, Waterford crystal chandeliers and Tiffany stained glass windows. Your interiors became instant cover features as shown in magazines of the time. How you wear a Charles Street façade of classic design with a gilded age interior is particularly fetching. That was about to change.
In the 1920's, the Pothast retail furniture company bought your edifice for their sales showroom. They made some external changes and created a display window by lowering a portion of the front salon floor plate and putting up plate glass windows. Although the change was done thoughtfully, it was humbling to have your façade disturbed. As if that wasn't enough, your interior beauty was partitioned off so customers would focus on the furniture instead of the walls. For almost fifty years, you developed a rare humility in hiding your "light under a sofa."
In the next half-century, shoppers saw suffragettes marching to win women's right to vote, soup lines during the Great Depression, signs selling war bonds through two World Wars, civil rights demonstrations, riots and hard won anti-discrimination legislation.
In the 1970s, a wealthy group of investors, including the son of the CBS Paley family, traveled from New York City to Baltimore. They looked behind the partitions, absorbed your exotic qualities and fell in love with your grandeur. They transformed you into a restaurant with the installation of a commercial kitchen and other modernized amenities. A few years later, another restaurant conglomerate purchased your structure and the dining public began to see how spectacular you are.
For the next thirty years, you flourished under the tutelage of new owners who called you the Brass Elephant. For years you reigned as the place to go for a special night out. Guests celebrated marked occasions within your walls: birthdays, anniversaries, engagements, graduations, weddings. The Brass Elephant restaurant closed in the late-2000s and remained vacant for about six years. Your grandeur diminished, the roof leaked, pigeons nested—you were in a sad state.
Wishes came true in 2015, when a couple (whose courtship and 1986 wedding occurred within your walls), purchased your structure and reclaimed your grandeur. For seventeen months, owners, artisans and technicians carefully removed old dilapidated innards and made you healthy with new electric, plumbing, HVAC and a new state-of the-art kitchen installation. It's gratifying to see how attention, appreciation and love can repair a building and its soulful self-esteem.
In closing, my dear 924 North Charles, you've housed three families and four commercial owners who love your enduring, flexible, humble disposition, packaged with exotic contents and wrapped in a beautifully classic covering. Along with previous, current, future owners and all guests who marvel, we promise to preserve you now and forever as an iconic Baltimore treasure.
Yours forever,
Linda Brown Rivelis & Steven Rivelis
Submit your own Love Letter today! Visit http://baltimorearchitecture.org/love-letters-to-baltimore-buildings/ for more details.