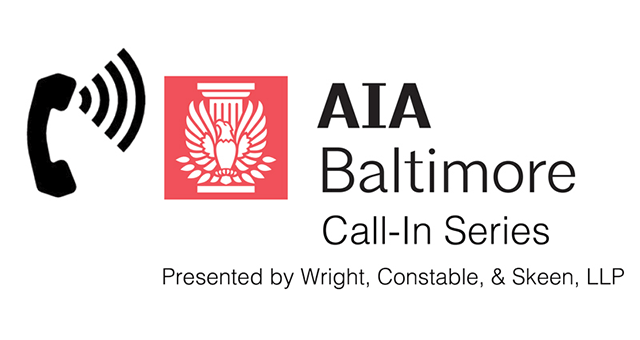 Up to 1.5 AIA/CES LUs available for attending every call. Each call is worth 0.5 LUs. You must attend at least two calls to reach the 1.0 LU minimum.
AIA Baltimore's Practice Management Committee and Wright Constable & Skeen present a 30 minute call-in series on legal and practice issues for architects and construction industry professionals. The summer series, presented by Gregory Currey of Wright, Constable & Skeen, will focus on Employment law.
Each call is on the third Tuesday of the month, 12:30 – 1:00 pm.
For access to each call, please contact Jeanne Hyatt at Wright Constable & Skeen at jhyatt@wcslaw.com or call 410-659-1399. Jeanne will provide a pin and the call in number.

[Postponed] – Employee Leave Laws
The Family and Medical Leave Act, Americans with Disabilities Act, Maryland Healthy Working Families Act, and other local laws all provide different rights and remedies for employees suffering from illnesses and injuries. This telebrief will provide a basic overview of the overlapping leave laws and provide guidance on how to handle employee requests for short and long-term leave.
June 19 – Compensable Time for Hourly Employees
When is travel time compensable?  Do I have to pay employees for time spent carpooling?  When are lunch breaks required to be paid?  This telebrief will cover whether time is considered "working time" under the Fair Labor Standards Act.  With treble damages and attorneys' fees available to employees who are paid incorrectly, it's imperative that employers know what hours are paid and what can be unpaid.
July 17 – Discipline and Discharge
This telebrief will cover best practices in discipline and discharge to protect the company's bottom line. By establishing and following simple practices, you can avoid "he-said/she-said" situations and prepare a record that will support your company's decisions in the event that an employee challenges their termination, whether through unemployment or a legal proceeding.
About the speaker
Gregory Currey is a Partner with Wright, Constable & Skeen, LLP. Mr. Currey is an experience counselor and litigator who focuses his practice on employment and business issues. He regularly works with employers to develop policies and practices to avoid litigation and represents employers when litigation is unavoidable. Mr. Currey is a frequent writer and lecturer on employment law.