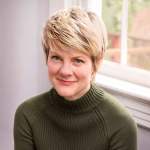 Another Archtober is nearly over. For the past month we've celebrated excellent design with one another—exploring all the magnificent hidden architecture revealed for Doors Open Baltimore, celebrating our design awardees at AIA Baltimore's annual Design Excellence Celebration, and acknowledging what good design can be in our always changing new world.
Let me say that what I enjoy most is spending October with fellow design enthusiasts. I really believe that no matter whether good design is something we have the fortune to experience in person each day, or appears on our iPads or phone screens, it is still and foremost the work of a design team for a discerning audience. Kudos to AIA Baltimore's members for all our efforts to bring design excellence—the engaging, visually arresting and meaningful collection of ideas that we as a group of experts create—to our city.
While technology efficiently delivers design stories to our desktops, laptops and mobile devices, architecture is all about context—how ideas and spaces are presented in relation to one another and within a larger point of view—and about trust and partnership. We at AIA Baltimore strive always to keep the public engaged and you, our members, are an essential component of the chapter's mission.
All the best,
Suzanne Frasier, FAIA
Morgan State University School of Architecture + Planning