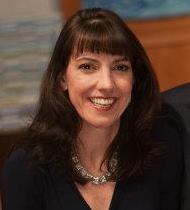 Each month in our newsletter, we include a photo of a building somewhere in Baltimore and ask our readers to quickly identify it. The first person to get it right gets recognized in the next newsletter and the satisfaction of winning. The competition is stiff and the replies are swift. Out of the dozens of responses we get each month, a few dedicated readers have set themselves apart with their deep knowledge of Baltimore's buildings and lightning fast response rate.
One such reader is Claudia Diamond, our 2019 Guess the Building Champion. Claudia was the first to get more buildings right last year than any of our newsletter subscribers. We asked her about her love for Baltimore architecture. Here is what she had to say:
I'm a runner. At 52, I'm now a slower runner. For almost 20 years, I have run through different parts of the city, and have found running to be a wonderful way to see the diverse architecture in our Charm City. Architecture now provides the best excuse for why I just may be going a bit slower or even coming to a complete stop.
On some Saturdays, I join the Pacemakers, an informal long-distance running club that starts its run each week in a different neighborhood. As I run, I may take in the Art Deco at the former Bank of America on Light Street—now housing the next generation who desire cool apartment living. Needing a few more minutes of rest, I look across the street at the brand-new gleaming, all glass 28-story One Light building.
Running affords me the opportunity to see the City from a different perspective. Running north on St. Paul, a southbound street for drivers, provides a "lovely" view of the square bell tower at Lovely Lane Methodist Church, something that cannot be appreciated from inside a car. Finally, I run home and pass what is probably one of my favorites right now because I'm involved in efforts to restore it: the Roland Park Water Tower. When I get there, I know it's only a few more blocks to my home—a craftsman foursquare from circa 1900. I pick up my speed.