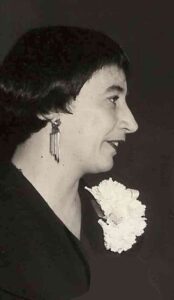 "My favorite stage of construction is the time when only the skeleton of the building is up, when there's nothing between the steel and the sky."
Baltimore Magazine, November 1967
Helen Ross Staley's career began with a first place medal in the 1944 national competition of Beaux Arts Institute of Design (BAID). Her university professor had entered their final studio project: a stand-alone television studio, a rarity in the nascent day of that medium. Impressed with her work, one of the competition judges offered her employment in his New York City firm, Moore & Hutchins. As few architecture offices were hiring during the war, Staley passed up a graduate school fellowship at the University of Pennsylvania for the opportunity.
When the war ended in August 1945, and service men returned to civil employment, some felt Staley was taking away a man's job. The end of the war brought her high school sweetheart home from active duty and they soon married and started a family, eventually settling in Harundale, a suburban starter community south of Baltimore. After a three year hiatus spent raising children, she returned to architecture, designing the first phase of the Harundale Community Church, where she and her husband were founding members.
Staley received her architectural license in 1955, after sitting for the four-day exam and finishing the required three years of internship with several architectural firms. She established her own firm of Helen Ross Staley, Architect out of the family's recently renovated home in Pasadena's North Shore community. While most of her projects were residential, many for clients from her sailing community, she also designed office and institutional renovations and a movie theater expansion.
The project she is most proud of is Harundale Community Church (now Harundale Presbyterian Church). Expanded in 1959 with her design for the main sanctuary, the light-filled space has laminated wood arches gracefully extending up to a peaked wood ceiling. Staley designed everything in the sanctuary, including pews, altar, cross, and a unique signage display for the hymnal selections. The sanctuary's expansive interior exemplifies her architectural philosophy. In her home studio, she removed walls to open the views towards the water. The open views were as important to her architecture as the spaces between the steel frames and the sky.