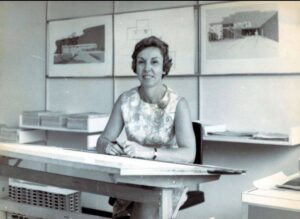 Nezahat Sügüder Arıkoğlu practiced with her husband İlhan Muzaffer Arıkoğluin Baltimore in the 1960s before returning to their home county of Turkey.
They are credited with over 30 mid-century modern projects in the region, many of which were designed within the in-house architecture division of Whiting-Turner Construction.  Their architectural collaboration including residential, religious, commercial, manufacturing, and office projects, such as WJZ's TV Studio and Offices on Television Hill.
Nezahat graduated as an architect from the Academy of Fine Arts of Istanbul of Istanbul in 1943 and practiced in both Turkey and the United States. Architecture was only one of her many passions. Her artistic repertoire included painting, sculpting, music, fashion design, culinary arts, and critical writing. She and her husband inspired both their son and grandson to continue in the family profession, where they practice in Turkey today.  Three generations of professional work can be viewed on their online museum.