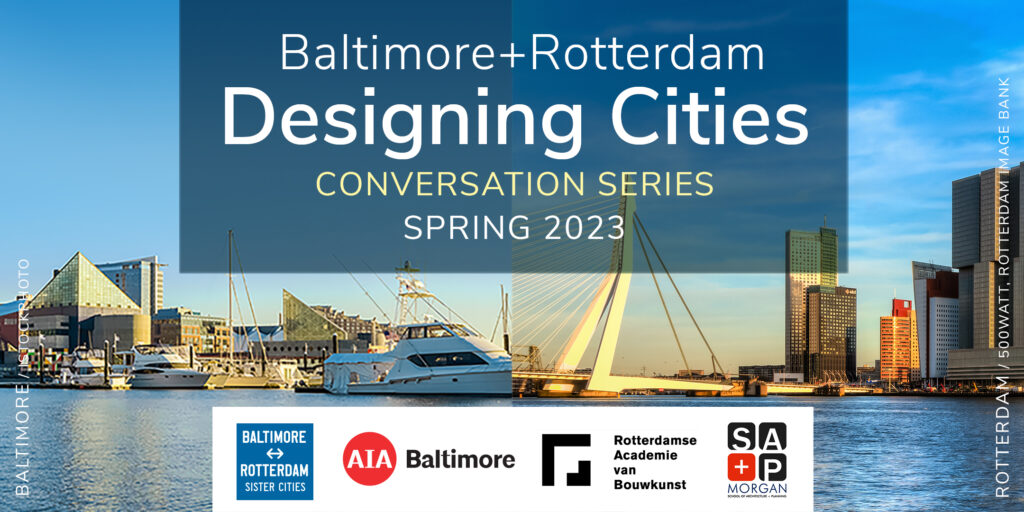 This series is a sequel to the previous webinar series from spring 2022. The spring 2023 theme is: Infrastructure as a Barrier. The 2023 series intends to critically look at the theory gained through the 2022 series and provide practical input to current urban challenges.
Architects, designers, and researchers from Baltimore (Maryland, USA) and Rotterdam (the Netherlands), discuss "How do architects design spaces for people?" together with the audience — in 4 round tables facilitated by international moderators. Each round table dynamically explores designs that value infrastructures, cities, public spaces, communities, and individuals. Each webinar will explore a specific theme. This is a unique opportunity to hear how different types of firms approach design in two cities with similar historical legacies (working class cities with port industries).
This series is designed and coordinated by Cristina Murphy, Assistant Professor at Morgan State University School of Architecture + Planning (MSU SA+P) and Adjunct Professor at Virginia Tech School of Architecture + Design's Washington-Alexandria Architecture Center.
Dates: Every Tuesday from February 14 to March 7, 2023, 12pm ET (US) / 18.00 CET (NL)
Format: Online webinar — moderated panel discussion and Q&A.
AIA continuing education credits: 1.0 AIA LU|HSW per webinar.
Registration: Admission is free but donations to support student travel to Rotterdam are appreciated (donation page accessible via link above).
February 14 Urban Ecology: Approaches for Environmental + Social Justice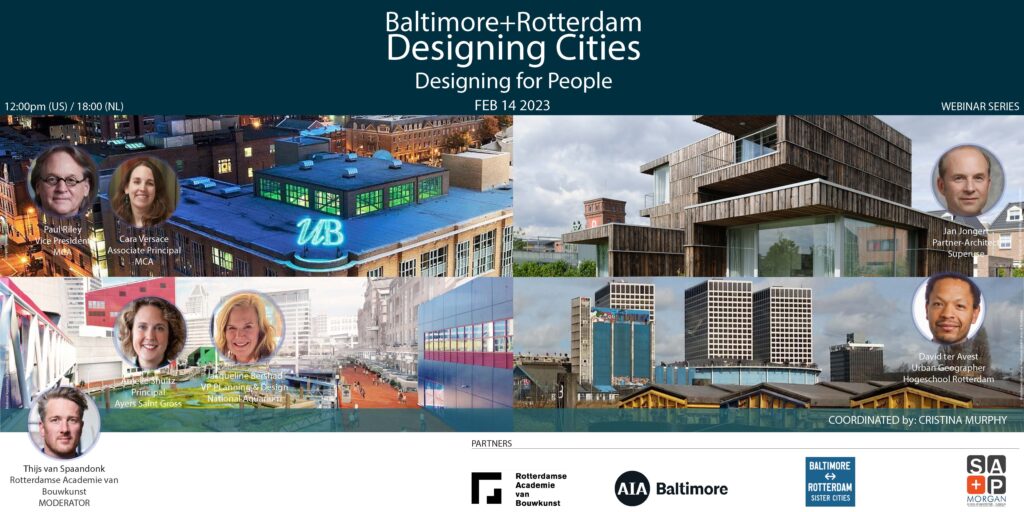 Urbanization is domesticating our ecosystems. Cities are spatially heterogeneous, complex adaptive systems. Furthermore, contemporary cities tend to be big in size and ecological footprint, fast in growth in population and land, and irregular in landscape configuration. Although the dynamic trajectory of cities can never be controlled, its evolution can be guided toward desirable directions through planning and design that are based on urban ecological knowledge and sustainability approaches. Register here.
February 21 Collective Reuse: The Art of Reuse through Community Participation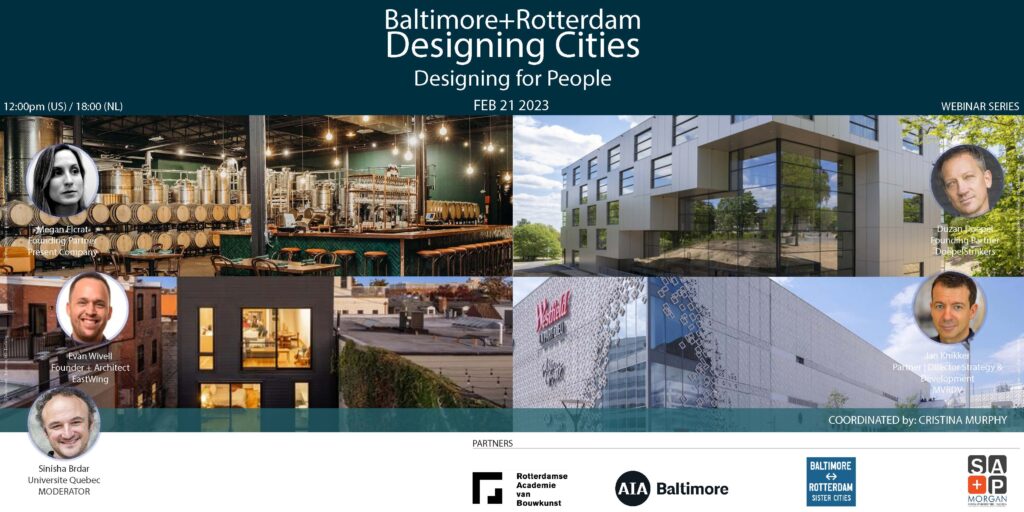 Adaptive Reuse is the use of buildings and materials for purposes other than originally intended. Although adaptive reuse has a long tradition in arts and crafts, more recently environmental awareness and design for sustainability have revitalized the role of a trash-to- treasures approach, providing a wide array of contemporary urban design which is an important part of today's city sustainability. In this session, we will explore the roles of adaptive reuse in the urban environment, focusing on repurposed objects (also) found in urban public spaces in order to (re)define the city. Register here. 
February 28 The Generous City: Infrastructure and the Highway to Nowhere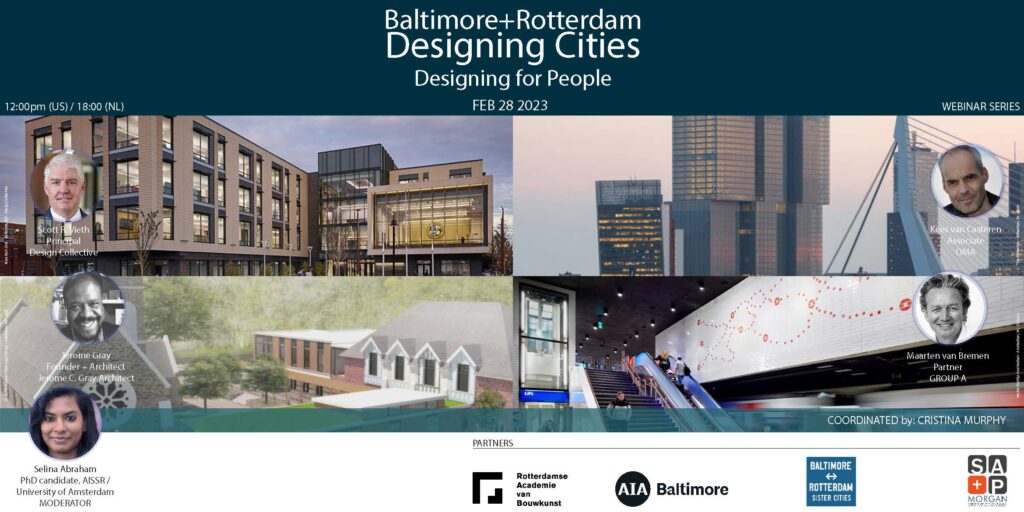 Cities and infrastructure can have an incredible impact on the lives of people. In the 1950s, the United States undertook an ambitious national interstate highway project with the goal of building roads to connect American cities. The design was, however, intertwined with racial prejudice creating segregation and impoverishing communities. In the Netherlands, cities like Rotterdam were rebuilt after the war and focused on cars as opposed to people. Urban highways have largely had a negative impact on urban life. This is the opposite of a "generous city". In this session, architects from the Netherlands and the US will discuss how cities and their infrastructures can consciously contribute to empower people through generosity-by-design. Register here.
March 7 The Power of Design! Working with Stakeholders to Design Human Spaces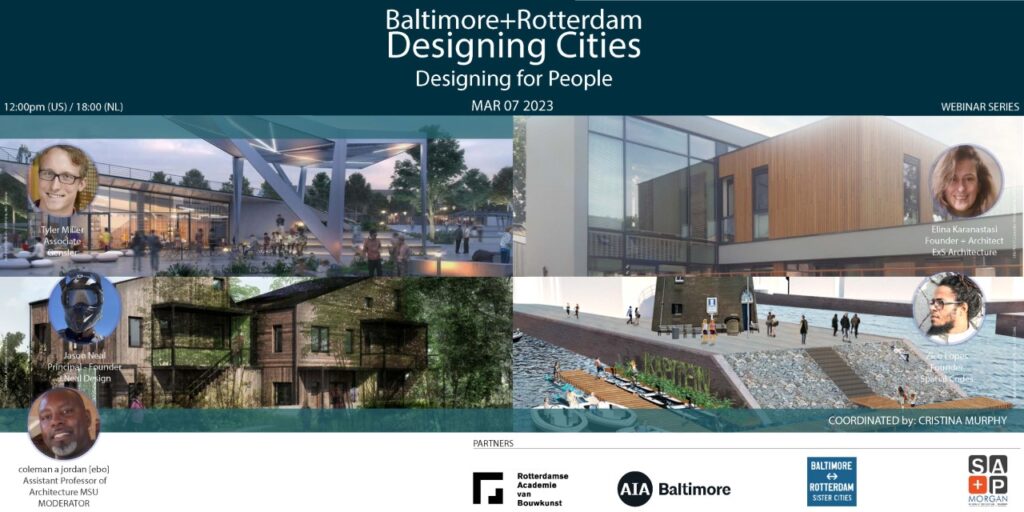 In order to improve the way we live, we ought to design healthier and safer cities and smarter buildings. To do so, collaboration is key. Our world faces challenges that are too great to be tackled by a single discipline. Baltimore and Rotterdam, like many cities around the world, face challenges related to food segregation, water resiliency, and poverty (also connected to homelessness), to name a few. More than ever, inviting users, customers, governance, and other stakeholders into the process of design is fundamental. These "new" stakeholders need to be brought in as active co-designers, to confront the big issues and develop actionable ways to improve experiences and to co-create new solutions. How can we, the designers, guarantee the welfare of citizens, through the creation of the built environment? Collaboration is discovering and using unique perspectives and benefiting from collective exploration. Register here.