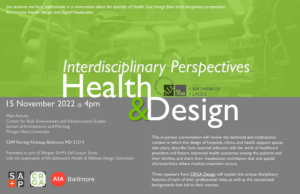 This in-person conversation will review the technical and institutional context in which the design of hospitals, clinics, and health support spaces take place; describe how material selection aids the work of healthcare providers and fosters improved health outcomes among the patients and their families; and share their visualization techniques that test spatial characteristics where medical treatment occurs.
Three speakers from CRGA Design will explain the unique disciplinary features of each of their professional roles, as well as the education backgrounds that led to their success.
Presented as part of Morgan State's SA+P's fall lecture series with the cooperation of AIA Baltimore's Health and Wellness Design Committee.
There is no pre-registration for this event. See you there!
1.0 LU|HSW approved