Bruce Price was born in Cumberland, Maryland on December 12, 1845. He was the son of William M. and Marion (Bruce) Price. His father was a lawyer and a descendant of a family of early settlers in Western Maryland; his mother was a descendant of Norman Bruce.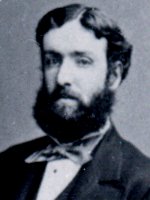 At least one sibling is known: a brother, Benjamin. His family moved to Baltimore in the early 1850s where Price attended school. His college education at Princeton was terminated, allegedly due to the death of his father. Bruce Price was married to Mary Josephine Lee, a daughter of Washington Lee Jr., in April 1871. Two children were born to this union: a son, William Lee Price, who died in December 1875, and a daughter, Emily Price Post, who became a world-renowned authority on etiquette. Bruce Price died in Paris on May 28, 1903. He is buried in Hollenback Cemetery in Wilkes-Barre, Pennsylvania.
Price learned his profession as a draftsman and apprentice in the Baltimore firm of Niernsee & Neilson during the period 1864-1868. He studied for a time in Europe and returned to Baltimore and formed a partnership with E. Francis Baldwin in 1869. The offices of Baldwin & Price were located at No. 54 Lexington Street, on the southwest corner of Charles and Lexington in the heart of an enclave of architectural offices in Baltimore. Two individuals employed by Baldwin & Price as draftsman were John Appleton Wilson and Sydney Williamson. Price severed his partnership with Baldwin about 1873 and moved to Wilkes-Barre, where his wife's family lived. In 1877 he moved his office to New York where it remained for the rest of his life. During this period he undertook a few projects in partnership with other architects, such as George A. Freeman and Henri de Sibour.
Bruce Price and Francis Baldwin were elected to membership in the Baltimore Chapter of the AIA in December 1870. Price served as a member of the Executive Committee of the Chapter. The Baltimore organization suffered problems during its early years and many members did not maintain their affiliation with it for long, for one reason or another. The chapter secretary reported that Price had been "removed" from the rolls in February 1873. He reportedly resigned from the AIA in 1877 but rejoined in 1890 as a Fellow.
Professor Vincent Scully described Price as an "elegant gentleman and erratic genius." He has also been described as the "darling" of the architectural world. There is no doubt that Price gained fame, fortune, and influence during his years in New York and his works, particularly those from his New York years, have been reviewed and described extensively. But Price's involvement with E. Francis Baldwin and his works from his earlier years in Baltimore and Wilkes-Barre have tended, until very recently, to have been overlooked or ignored.
It is difficult, of course, to parse out the individual responsibilities for architects in a partnership and many of these projects were probably joint efforts. The Grace PE Church in Lexington, Virginia and the Savannah Cathedral, as well as the projects initiated in 1873, were carried to completion by Baldwin after Price left the firm. The cathedral was finished in 1876; the Lexington church was not completed until 1883. The houses on Chase Street, referred to as the "marble houses," were likely Price's personal efforts; Price himself lived in one of them (No. 14), where his daughter, Emily Price Post, was born in October 1872. Price probably had sole responsibility, of course, for his family and parish-related work in Cumberland and Wilkes-Barre.
The time Price spent in Wilkes-Barre was relatively short; he reportedly arrived there in the fall of 1873 and left in the fall of 1876. He resided on S. Franklin Street. But it was during his years in Wilkes-Barre that he developed his High Victorian Gothic style of architecture–a style which he later rejected and disapproved. An unpublished study (Lewis, 1985) has pieced together a more complete picture of Price's work in Wilkes-Barre.
The greatest concentration of Price's work undoubtedly was in Tuxedo Park, New York. This was developed originally as an exclusive planned commuter community by Pierre Lorillard. In less than a year, during the period 1885-1886, Bruce Price designed a clubhouse and offices, stores, and some three dozen cottages and houses here. Price's involvement with this project continued for over 15 years. Price's daughter, Emily Post, is buried in Tuxedo Park.
A curious aspect of Price's work, and perhaps relatively unique for an architect, is his design, and patenting of a "bay window parlor car" for the Pennsylvania Railroad in the mid-1880s. Drawings and specifications for such a 62-foot long car were published, and at least one such car (No. 901) was apparently built in the Pennsylvania Railroad shops in Altoona, Pennsylvania.
By Carlos Avery