James Crawford Neilson was born October 14, 1816 in Baltimore in a house on Market (now Baltimore) Street. He was the son of James Crawford Neilson (1776-1822) and Albertina A. Backer, an Englishwoman.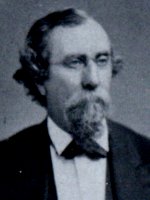 In 1822, after the death of his father, Neilson's mother moved her four children to England to live with her mother. Two years later,  they left for Brussels which was still part of the Kingdom of the Netherlands. Young Neilson attended private school there until 1833 when, owing to the revolution in which Belgium and Holland were divided, he departed for the US. He arrived in Baltimore by ship from Liverpool and took up lodgings first on Hanover Street, then Fayette Street, and finally for a brief period at St. Mary's College on Paca Street.
In 1835, at the age of 19, Neilson became a member of the survey party working on the Baltimore & Port Deposit Railroad (later the Baltimore & Philadelphia Railroad). His supervisor was Benjamin H. Latrobe. Subsequently, Neilson helped survey in the area of Martinsburg, West Virginia, for the Baltimore & Ohio Railroad. It was at this time that he first became acquainted with John Rudolph Niernsee, who was chief draftsman for the railroad.
In the meantime, Neilson had married Rosa Williams, whose family owned farmland along Deer Creek in Harford County at a place called Priestford. Among their children was Charles Neilson, who attained the rank of General and became Assistant Postmaster General of the United States.
Between 1843 and 1844, Neilson worked on the U.S. Coastal Survey maps for the Eastern Shore of Maryland. He and Niernsee entered partnership in the practice of architecture in June 1848. The firm of Niernsee & Neilson first occupied an office located on Fayette Street, near Charles Street.
Architectural commissions came readily and included railroad stations for the B&O, commercial buildings, several churches, and both country homes and townhouses for the well-to-do, many of whom were in fact directors of the B&O Railroad.
Then, in 1856, Niernsee was made architect of the capitol of South Carolina and moved to Columbia. Neilson continued to practice alone in Baltimore, designing a number of public buildings as well as several structures in Harford County, where his family now resided at the Priestford farm which Mrs. Neilson had inherited.
When Niernsee returned to Baltimore in 1865, the two architects revived their partnership and took into their office a number of young interns who later became prominent themselves, including R. Snowden Andrews, Eben Faxon, Bruce Price, and, briefly, E. Francis Baldwin.
Niernsee and Nielson were both founding members of the Baltimore Chapter of the AIA in 1870. Following a successful period of ten years, during which several banks, hotels, schools and houses were designed, the firm of Niernsee & Neilson was disbanded. Each continued to work on his own, Niernsee in partnership with his sons, and Neilson by himself.
From 1875 until his death in 1900, Neilson expanded his horizons into Virginia where, through his friendship with Washington Lee, Robert E. Lee's son and successor as president of Washington & Lee University, he worked on several college buildings, the Mausoleum in the Lee Chapel, and faculty residences. Neilson also designed a number of buildings in Staunton, Virginia, and on Maryland's Eastern Shore.
James Crawford Neilson was a man of many talents. His diaries and family tradition show that he designed a coat-of-arms for the Neilsons and the family silverware pattern. He was an accomplished figure skater and he kept copious notes on his farm as well as the surveys he made of its vicinity. All are in the Manuscript Collection of the Maryland Historical Society.
Neilson's death came on December 21, 1900 at Priestford, where he is buried in the family cemetery.
By Randolph W. Chalfant, Catherine E. Black and James W. Foster. Edited by James T. Wollon Jr., AIA