Richard Snowden Andrews was born in Washington DC on October 29,1830, son of Col. Timothy Patrick Andrews and Emily Roseville Snowden Andrews. Educated at private schools in Washington and Georgetown, he was apprenticed at 18 to the carpentry trade as preparation for a career in architecture.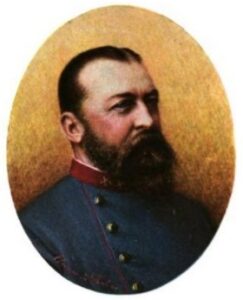 His family moved to Baltimore in 1849. Andrews interned in the office of Niernsee & Neilson but left to establish his own practice in 1852. Eben Faxon (1821-1868), with whom Andrews sometimes collaborated, also had been an intern with Niernsee & Neilson. On December 18, 1855, Andrews married Mary Catherine Lee, daughter of Baltimore banker Josiah Lee.
During his architectural career, Andrews was involved in designing the Hospital for the Insane at Weston, West Virginia; the Governor's Mansion, Annapolis; the South Wing of the Treasury Department, Washington, DC; the U.S. Custom House, Baltimore; Eastern High School; and numerous "churches and other buildings of lesser note."
Andrews had an interest in the Westham Granite Quarries, located on the James River about seven miles above Richmond, Virginia. These quarries were the source of granite for the State, War, and Navy Department buildings at Washington; the Baltimore Chamber of Commerce Building; the Hopkins Place Savings Bank, Baltimore; the Western Union Building, New York; and for the piers and elevator at Locust Point for the B&O Railroad.
Andrews had an illustrious military career. Upon the outbreak of the Civil War, he went to Richmond and organized the First Maryland Light Artillery. He was seriously wounded at Cedar Run, near Winchester, Virginia, in 1862. His injuries rendered him unfit for active service, but he remained employed in the ordinance department of the Confederate Army.
He was in Cuba on army business when he heard of the end of the war, and vowed never to return to the United States. He went directly to Mexico, where he worked for two years on the construction of the Imperial Railroad between Vera Cruz and Mexico City. His family joined him in Mexico in February 1866. The downfall of the emperor Maximilian halted railway construction, and left Andrews unemployed. He returned with his family to Baltimore in 1867. He was a member of the Episcopal Church, and taught Sunday School at Emmanuel. He died January 5, 1903.
Between 1863 and 1872, Andrews changed his address several times. In 1873, he moved to the corner of Maryland and North Avenues, where he remained through 1879, after which he was no longer listed as an architect in the Baltimore city directories.
In 1910, Andrews' son-in-law, Tunstall Smith, published a memoir primarily detailing Andrews' military experience.