Charles E. Cassell was born in Portsmouth, Virginia, son of Charles E. and Sarah W. Cassell. He was educated in local schools, and graduated from the University of Virginia at an early age.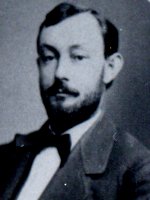 During the Civil War he served as a captain in the engineers corps, under General Pickett of the Confederate Army. After the war, he traveled to South America and served in the Chilean Navy. He returned to the United States and practiced architecture in St. Louis before coming to Baltimore about 1868. Cassell was a founding member of the Baltimore Chapter of the AIA in 1870 and was raised to Fellowship by 1905. He practiced with his son, John (Charles E. Cassell & Son), from 1905 to the latter's death of flu around 1909. He also sometimes was associated with his nephew, Charles M. Cassell of Norfolk, Virginia (Cassell & Cassell).
Cassell occupied offices in the Lexington Building at the southwest corner of Charles and Lexington streets from 1868 through 1881, when he moved to 55 North Charles Street (renumbered 301 in 1887), where he remained until 1893. (E. G. Lind had the same address in 1882). In that year, he moved to the new Law Building at the corner of St. Paul and Lexington streets, which he had designed, and remained there until the 1904 fire destroyed the building. The short-lived partnership of Charles E. Cassell & Son was located at 411 North Charles Street at its formation in 1905, but moved the next year to a suite in the reconstructed Law Building, and occupied those offices until John Cassell's death in 1909. Subsequently, Charles E. Cassell continued to practice in reduced quarters on the eighth floor of the Law Building until his death in 1916.
According to Richard B. Carter, great-grandson of Charles E. Cassell, the family name was originally Casselli, and they emigrated from Genoa, Italy to Norfolk, Virginia in the 1820s. Charles Emmett Cassell was trained as a naval architect, and received a degree in engineering from the University of Virginia at age 15. He designed the naval waterworks at Old Point Comfort, Virginia. Upon secession, he spirited the plans out of his office to keep them from falling into the hands of the Union, and was branded a traitor for this action.
He attained the rank of Captain in the Confederate Army, and at the end of the Civil War, Cassell, then aged about 21 or 22, fled to the South American city of Bogota–then part of Chile–to avoid execution for treason. He became an Admiral in the Chilean Navy. He was pardoned for his offense and returned to Virginia, where he married Sally Bowles, daughter of a prominent Episcopal clergyman.
The couple moved to Baltimore and took over the residence of Cassell's brother at 1407 Park Avenue. They had three daughters, Mary Virginia, Sally Primrose (Mr. Carter's grandmother, born 1874), and Matty, and a son, John, who became an architect and practiced with his father. Mrs. Cassell died suddenly in a flu epidemic, and several maiden aunts from Norfolk took turns caring for the children, commuting on the Bay Line steamer.
Cassell is believed to have invented a system of sidewalk paving incorporating thick glass cylinders to admit light to basements. Among his designs were a country house for Albert Hutzler, work for the Levi family of Independent Beef Company, Friends School near the intersection of North and Park avenues, Jenkins Memorial/Corpus Christi Church (doors and crypts only), church opposite Johns Hopkins University playing fields, and the Greek Orthodox Cathedral of the Annunciation.
He is buried in his family's lot in Cedar Grove Cemetery, Portsmouth, Virginia.
By James T. Wollon Jr., AIA