William Rich Hutton was born in Washington DC on March 21, 1826. His parents were Salome Rich and John Hutton.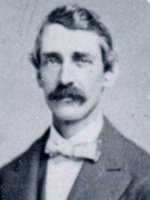 He received his education in mathematics, drawing and surveying from the Benjamin Hollowell School in Alexandria, Virginia. In 1846, he went to California as a payroll clerk with the US volunteer forces; he returned to Maryland in 1853. In 1855, he married Mary Augusta Clopper, daughter of Francis Cassatt Clopper of Gaithersburg; they had a son and four daughters. William Rich Hutton died on December 11, 1901, and is buried in the cemetery of St. Rose of Lima church, near his home, Woodlands, in Clopper, Maryland.
William Hutton was a civil engineer with an international reputation. In 1853, he was the assistant engineer with the Metropolitan Railroad. In 1855, he became the assistant engineer to General Montgomery C. Meigs on the Washington Aqueduct and Cabin John Bridge, succeeding Meigs as Chief Engineer in 1862-63 for its completion. In 1866, he became the Chief Engineer for the Annapolis Water Works. In 1869, he became Chief Engineer for the Chesapeake & Ohio Canal. In 1871, he was Chief Engineer for the Western Maryland Railroad. In the early 1880s, he moved his office to New York where he was Chief Engineer for the Washington Bridge (1886-89) and the Hudson River Tunnel (1889-91).
He also served as a consulting engineer on a variety of projects, including the New Croton Aqueduct, New York (1880). He received an award for the design of the locks on the Kanawha Canal.
During the period 1873-1880, William Hutton apparently entered into a partnership with his brother, Major N. H. Hutton (1834-1907), a leading Baltimore architect, former partner with John Murdoch (both charter members of the Baltimore Chapter of the AIA). William Hutton was elected as a corresponding member of the Baltimore Chapter in December 1872. (Other engineers who were so-called "non-professional" members of the chapter in this period were Wendell Bollman, Charles Latrobe, J. L. Randolph, John Ellicott, John Wilkinson, and J. C. Wrenshall).
William Rich Hutton apparently practiced as an architect for about a decade. Only one building is known that has been attributed to him: the St. Rose of Lima church in Clopper, Maryland that was built to replace the 1835 church that was destroyed by fire in 1883.
By Carlos P. Avery