We know John Murdoch best as an architect in partnership with Nathaniel Henry Hutton (1833-1907) at Hutton & Murdoch, Architects and Civil Engineers. Both were among the 18 charter members of the Baltimore Chapter of the AIA (1870-71).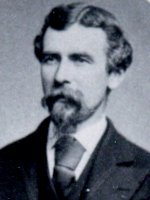 Both partners had extensive experience as structural and civil engineers and both practiced engineering individually for many years following the dissolution of their architectural partnership.
John Murdoch was born in Baltimore on March 23, 1836, the fifth child and fifth son of Alexander Murdoch (1801-1879) and Susan Turnbull Murdoch. He was educated at McNally's School. Then from 1851 to the summer of 1853 he studied at the well-known school of Benjamin Hallowell in Alexandria, Virginia.
John Murdoch and Mary Howard Law (1849-1940) married on November 10, 1869. They had four daughters: Sarah Howard (Mrs. Robert Clinton Wright); Alison Lawrence; Marjorie Russell (Mrs. Charles S. Starr); and Mildred Law.
John Murdoch died on November 16, 1923, at his residence 1527 Bolton Street, Baltimore. After his funeral in Brown Memorial Presbyterian Church, which he had designed with his partner Nathaniel Henry Hutton, he was buried in Green Mount Cemetery. His wife joined him there upon her death in 1940.
After his schooling, Murdoch began his engineering career in 1853, with several railroads, working in Maryland and Pennsylvania, and south in Virginia to Tennessee and Kentucky. In early 1858, he returned to Baltimore and entered one of Baltimore's most important architectural offices—Lind & Murdoch, that Murdoch being William T. Murdoch, his cousin.
With the outbreak of the Civil War in 1861, John Murdoch returned to his engineering profession, working on coastal fortifications and other maritime projects for the US Government.
With the return of peace, Murdoch returned to Baltimore. In 1867, he formed a partnership with Nathaniel Henry Hutton, Hutton & Murdoch. The partnership lasted only six or seven years, but the firm produced some of Baltimore's best known works, equal to many by other architects of their times, including Ascension (now St. James') Episcopal Church on Lafayette Square; the North Avenue Bridge over the Jones Falls Valley; St. Peter's Episcopal (now Bethel A.M.E.) Church; Christ Episcopal Church in Georgetown; Beethoven Terrace and Brown Memorial Presbyterian Church, both in Bolton Hill. The partnership also designed some residences and produced a number of iron-fronted warehouses and other commercial buildings in downtown Baltimore, mostly destroyed in The Fire of 1904.
The North Avenue Bridge over the Jones Falls Valley was a major engineering work, but never built. Murdoch's water-color rendering was presented to the Maryland Historical Society in 1947 by his daughters.
John Murdoch held the offices of Secretary, Treasurer and President of the Baltimore Chapter, A. I. A. He resigned from the A. I. A. in 1876 and returned to his career in engineering with work on the coastal forts McHenry, Carroll and Monroe, and with dozens and dozens of maritime works such as light houses, signal structures, warehouses and wharfs.
Following the dissolution of their partnership, Nathaniel Henry Hutton also returned to the engineering profession, which included work with his brother William Rich Hutton, one of America's early important engineers.
By James T. Wollon, Jr. AIA, based on a biography of John Murdoch by his daughters, and research by Carlos Avery.