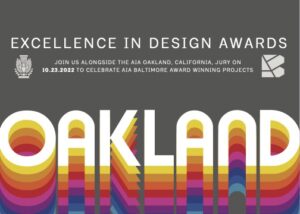 The Excellence in Design Awards promotes and publicizes the work of AIA Baltimore members throughout our region and recognizes Baltimore Architecture Foundation Golden Griffin and Roger Redden Award recipients.
We are pleased to announce that AIA Baltimore's 59th Annual Excellence in Design Awards Celebration will take place at the Center for Architecture & Design. In response to COVID-19, we are structuring this year's Celebration as a hybrid program, with a digital component.
REGISTRATION OPENING SOON
Event Details
For Your Safety We Are:
Requiring Proof of Vaccination
Requiring Masks/Social Distancing
Hosting our Event Outdoors on the One Charles Center Terrace: this beautiful space designed by Mies van der Rohe is a covered outdoor terrace and rooftop deck with fountains and plentiful outdoor seating overlooking Center Plaza and the downtown Baltimore skyline
Offering a Virtual Experience
Limiting capacity to 150 patrons
Food and Drink Served with Social Distancing and Minimal Contact
Read Our Full 2021 COVID-19 Event Policy Here.
By registering for this event, you agree to comply with our Covid policy and to terms of the event waiver.
Attire: Creative Festive: dress to show off your design creativity and to celebrate AIA Baltimore's 150th!
Agenda:
4:30- Tour Check-In
5:00-6:00 Guided Tour of The Baltimore Center of Architecture & Design
6:00- Awards Ceremony (virtual program begins), Followed by Reception
9:00-Event Concludes
This event is an opportunity to gather with 300+ members of the design and construction industry for networking, recognition of outstanding design projects and to appreciate the important role of design in our built environment and its importance to businesses, institutions, and communities.
We are excited to announce AIA Baltimore's Design Awards jury from AIA East Bay. The Design Awards Celebration promotes great design in Baltimore and beyond and is a staple program for Baltimore Architecture Month.
Please consider sponsoring this annual event; by doing so, you are not only supporting AIA Baltimore but the architecture profession and our outstanding local design talent.  We encourage you to sign up early to maximize your exposure and enhance your visibility as we begin promoting this event.
AIA East Bay Jury Coming Soon!