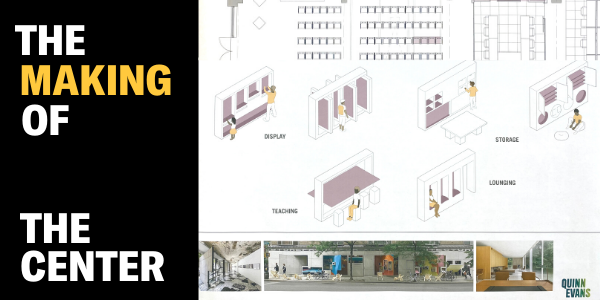 On view in the Center Gallery through September:
In August of 2019, four firms participated in a design competition to bring to life the vision for the Baltimore Center for Architecture and Design, located at One Charles Center. AIA Baltimore ultimately selected the Baltimore office of Quinn Evans Architects to design the Baltimore Center for Architecture and Design.
See how the Quinn Evans team made it to their final design with our latest exhibition "The Making of the Center", offering insight in the design ideas, and innovative, flexible solutions to accommodate a variety of  Center programs, and to complement original iconic modernist building design by Mies van der Rohe.
See our new exhibition by making an appointment here.
Also on view in the Plaza level Lobby:  AIA Baltimore/BAF 2020 Design Excellence Awards, and ULI Baltimore Wavemaker Awards.
---
About The Center

Photograph Courtesy of Nate Smith Photography
The Center for Architecture and Design serves as a high-profile, visible space to showcase the important role of architectural practice and design, and as a dynamic hub to engage professionals, students, and the public. It is a place where local designers can gather and network, where students can engage in STEM workshops, and where all Baltimoreans can participate and learn. Shared exhibition and gallery spaces, studios, and event spaces will offer engaging new programming on architecture, urban design, neighborhood history, historic architecture and new design projects, and the role of design in shaping the city's future.